Making a Claim
Contact us today for a FREE no obligation discussion.
If you are eligible for the no win, no fee scheme, we will begin the process of making a claim.
If the defendant admits liability, we will negotiate the amount of compensation to be paid.
If the defendant disputes your claim, we will take the necessary steps to resolve the matter quickly and amicably.
Slips, trips and falls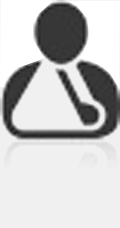 No win, no fee
You keep up to 100% compensation
Free, impartial advice
It's easy – we'll guide you every step of the way
If you have experienced a slip, trip or fall at work, or in a public place such as a shop, you may be entitled to claim compensation for your injuries.
Up to 100% compensation
No cost to you
Specialist legal advice
Hassle-free personal injury claims management
If you have been injured in a shop, office, supermarket, on a public footpath or highway, you could be entitled make a claim for compensation.
Businesses and other organisations have an obligation to minimise the risk of a slip, trip or fall on their premises.  This means they must take precautions to firstly identify, and then to reduce the risk of an accident.  For example, signage must be in place when surfaces are wet due to a spillage, for example. Walkways must be free from obstructions, uneven surfaces should be repaired, correct lighting should be in place.  In addition, safety features such as handrails on stairs should be provided.
Straight-forward personal injury claims specialists
We appreciate it can be a daunting prospect to make a claim, but with our personal approach, you've nothing to worry about.  Your dedicated claims advisor will guide you through the process from start to finish.
What to do if you've suffered a personal injury
To make a successful claim, it will be necessary to show that an organisation failed in its duty of care to protect you while on their premises.  We will help you gather the necessary evidence to progress your claim.
Contact us today for a free, no obligation discussion about making a personal injury claim following a slip, trip or fall.