Can I claim?
Contact us for free, impartial advice about whether you can utilise a no win no fee arrangement.
Making a Claim
Contact us today for a FREE no obligation discussion.
If you are eligible for the no win, no fee scheme, we will begin the process of making a claim.
If the defendant admits liability, we will negotiate the amount of compensation to be paid.
If the defendant disputes your claim, we will take the necessary steps to resolve the matter quickly and amicably.
We have had an excellent business relationship with AMG Claims Ltd for over 10 years and would not consider placing our client's claims with anyone else.
Matthew Hewitt, UK Insurance Solutions
No Win, No Fee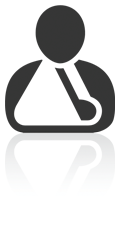 Have you been injured in an accident that wasn't your fault within the last 3 years? If so, we can help you claim personal injury compensation.
No win, no fee
You keep up to 100% compensation
Free, impartial advice
It's easy – we'll guide you every step of the way
No win, no fee – it couldn't be simpler.
You may have heard about no win, no fee (also known as a Conditional Fee Arrangement) but what does it mean in practice?
In essence, a no win, no fee compensation claim means you don't have to pay your solicitor's fees if you do not win your claim, and that insurance will cover you against the other side's costs.
If you do win your claim, you retain the compensation amount awarded in accordance with our 'Damages Based Agreement' as your solicitor's fees will be met by the at-fault party insurer. Other costs could be payable.
The no win no fee claims process replaces the previous system of legal aid.  Under the old system, claimants had to satisfy an independent regulator that they had a reasonable chance of winning their case in order to qualify for legal aid.  Now, under the no win no fee system, a solicitor will decide whether to take the case on, based on the likelihood of success.
Our approach makes it easy to make a no win, no fee compensation claim working with our network of experienced specialist personal injury solicitors.
Free, impartial advice
A quick telephone conversation with one of our solicitors is all that is required to assess whether your claim is eligible for a no win, no fee arrangement.  We will fully explain what's involved before you begin what is usually a very straight-forward process.
Start your no win, no fee claim
Get in touch today to find out if you could make a no win no fee compensation claim.