Making a Claim
Contact us today for a FREE no obligation discussion.
If you are eligible for the no win, no fee scheme, we will begin the process of making a claim.
If the defendant admits liability, we will negotiate the amount of compensation to be paid.
If the defendant disputes your claim, we will take the necessary steps to resolve the matter quickly and amicably.
Accidents at work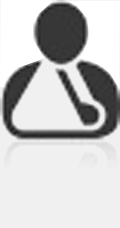 No win, no fee
You keep up to 100% compensation
Free, impartial advice
It's easy – we'll guide you every step of the way
If you've suffered an accident at work, you may be entitled to claim compensation.
Our team of personal injury solicitors have specific knowledge and experience in workplace accidents and will provide the advice and guidance you need to pursue a claim.
Up to 100% compensation
No cost to you
Specialist legal advice
Hassle-free, personal service
Accidents caused by faulty equipment
Many items of workplace equipment require specialist testing, regular servicing or specific certification to ensure that they are safe to use. You may be able to make a claim for compensation if you have been injured as a result of faulty equipment.
Accidents caused by lack of training
Accidents that result from lack of training are all too common.  If you have been injured in an accident at work as a result of inadequate training or guidance on a piece of equipment or procedure, you can make a claim for compensation.
Hearing injuries
Your employer must take adequate steps to protect your hearing, reducing the risk of hearing loss, ensuring equipment is safe to use and providing adequate protection. Speak to us if your hearing has been damaged in the workplace.
Chemical injuries
Employers are duty-bound to minimise the risk of injury among employees who handle potentially harmful chemicals.  If your employer hasn't provided the necessary training and adequate safety equipment, you may be entitled to claim.
Explosions
Claims involving workplace explosions have been brought against employers, not only for physical distress but for psychological effects too. You can pursue a claim if you have been injured and your employer has failed to take adequate safety measures.
Manual handling
If manual handling is necessary, employers must reduce risk to the lowest practical level. This includes ensuring that employees are properly trained, are not required to lift items that are too heavy and that lifting equipment is provided where necessary. If you have been injured as a result of manual handling tasks in the workplace, you may be entitled to compensation.
Repetitive strain injury
Workstation assessments and risk analysis must be carried out by your employer to protect you from Repetitive Strain Injury.  RSI – often characterised by aches and pains in the arms or a weak grip – can cause severe discomfort and affect your ability to work.  A claim can be pursued if your employer has failed in their duty of care.
Contact us today for a free, no obligation discussion about making an accident at work claim.