Making a Claim
Contact us today for a FREE no obligation discussion.
If you are eligible for the no win, no fee scheme, we will begin the process of making a claim.
If the defendant admits liability, we will negotiate the amount of compensation to be paid.
If the defendant disputes your claim, we will take the necessary steps to resolve the matter quickly and amicably.
We have had an excellent business relationship with AMG Claims Ltd for over 10 years and would not consider placing our client's claims with anyone else.
Matthew Hewitt, UK Insurance Solutions
Personal Injury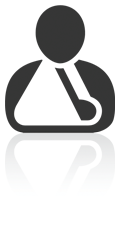 Have you been injured in an accident that wasn't your fault within the last 3 years? If so, we can help you claim personal injury compensation.
No win, no fee
You keep up to 100% compensation
Free, impartial advice
It's easy – we'll guide you every step of the way
At AMG, we take a straight-forward approach to personal injury compensation claims.
Whether you've suffered slight injuries and the inconvenience of having to take time off work, or you've been more severely impacted, we act in your best interests to get the personal injury compensation you're entitled to.
Free, impartial advice
With 20 years' experience in professional claims management, we have helped hundreds of individuals to receive compensation for injuries sustained at work, in road traffic accidents and in shops and other public places.
What sets us apart is our proactive approach, offering a bespoke and down-to-earth service to help get the best possible outcome for your individual circumstances.  Our specialist advisors will talk to you in plain English and make the process as fast and straight-forward as possible.
No win, no fee
If you were injured in an accident that wasn't your fault, it's highly likely that you will be able to make a no win, no fee claim.  If successful, you would keep up to 100% of your compensation and your solicitor's fees would be met by the at-fault party.  If your case is unsuccessful, it won't cost you a penny.
Making a personal injury compensation claim
Making a claim is easy.  Following a thorough case review, AMG Claims underwrites and then presents your claim to our appointed panel solicitor. To get started, speak to one of our personal injury experts TODAY for free, impartial advice.