Road accident injury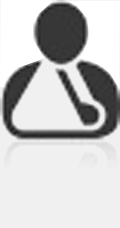 No win, no fee
You keep up to 100% compensation
Free, impartial advice
It's easy – we'll guide you every step of the way
If you have been involved in a road traffic accident that wasn't your fault, you could claim compensation for your injuries.
Up to 100% compensation
No cost to you
Free advice
Hassle-free personal injury claims management
We provide specialist support to drivers and passengers, as well as motorcyclists, cyclists and pedestrians, who have been injured in road traffic accidents that were not their fault. Claims can also be made if you've been involved in a road accident involving children or other pedestrians, animals or dangerous road surfaces.
Making a road traffic accident claim
All vehicles are required by law to have insurance and claims are made against the insurance company of the at-fault party. If you are involved in an accident with an uninsured driver you could still claim compensation through the Motor Insurers Bureau.
To make a successful road traffic accident claim you will need to document the circumstances of the accident. We will help you gather the necessary evidence. However, where possible remember to exchange details with the other driver – take a note of their name, their address, contact number and insurance company. Also make notes about the incident – what happened, the weather conditions, the state of the road surface at the time of the accident. Take photographs too if possible. And try to take names, addresses and telephone numbers of any witnesses to the accident.
Start a Road Traffic Accident Claim
If you have been involved in a road traffic accident within the past 3 years and would like to find out if you are entitled to make a no win no fee road accident claim, contact us today.
To find out more, please call today on 07133 340333 or request a call back.